Evening barbeque and lamb burgers by Loughrigg Tarn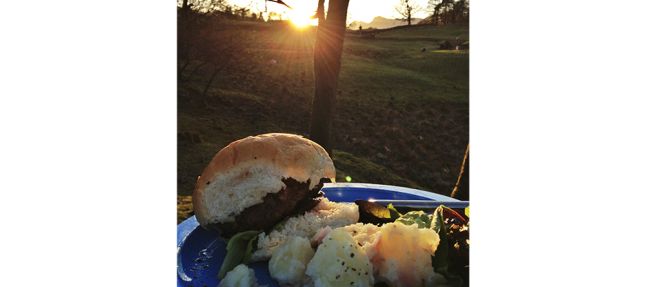 April 24, 2013 Food & Recipies
With Shaw End being so well situated to outlets selling local produce, guests can easily pick up all the fresh ingredients they need for an evening dining at Shaw End or perhaps a barbeque by a Lakeland Tarn. We will be highlighting our local producers and retailers such as Farm shops or festivals and events like Farmer's Markets in this section, and suggesting easy recipes using ingredients found there.
James took advantage of the brief Spring sunshine on Sunday evening and took his home-prepared burgers up to Loughrigg Tarn near Skelwith Bridge, for a barbeque. The lamb mince was bought at Plumgarths Farm Shop, near Kendal for this recipe although if time is short Plumgarths own lamb and mint burgers can be bought there! Plumgarths not only sell locally produced meat but freshly prepared meals to take home, cakes, jams and oils to name a few.
James used Jamie Oliver's Botham Burger recipe but used lamb mince rather than beef this time and his preference is to mince all of the ingredients further with a blender but if you are after a more rustic burger then just squish it all together and get them on the barbeque! No need to be crushing seeds either when you could be enjoying the views with a cold beer/wine, just use the ground versions!
For 4 generous burgers:
1kg minced beef; 2 red onions, finely chopped; 2 eggs; 1-2 handfuls of fresh breadcrumbs; 1 tablespoon of coriander seeds, crushed; 1 small pinch of cumin seeds, crushed; 1 heaped teaspoon Dijon mustard; salt and pepper.
Mix and squish all the ingredients together. Divide into 4 (or more if you don't have the appetite of a 17 year old lad) and mould into balls, then gently press to very slightly flatten the top and bottom. Cook on barbeque or roast in oven, 25mins or until slightly pink on the inside and crispy on the outside.